FUERTEVENTURA AIRPORT (FUE) INFORMATION
Origin
Airline
Flight no.
Scheduled
Est./Actual
Status
No flight arrivals were found at Fuerteventura Airport.
Destination
Airline
Flight no.
Scheduled
Est./Actual
Status
No flight departures were found at Fuerteventura Airport.
Car Hire at Fuerteventura Airport
UNBEATABLE VALUE CAR RENTAL
Free Amendments | Free Cancellations | No Card Fees




Fuerteventura Airport - All Information on Fuerteventura Airport (FUE) Fuerteventura Airport
El Matorral, s/n, 35610 El Matorral, Las Palmas, Spain
phone +34 913 21 10 00
phone+34 913 21 10 00 (Lost + Found)
emailfueinfo@aena.es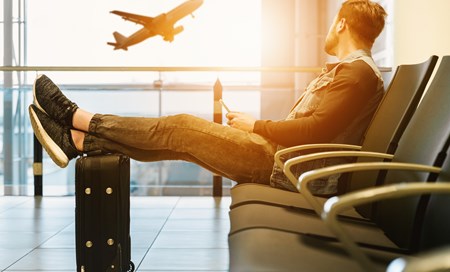 Fuerteventura Airport serves the island of Fuerteventura and is located approximately 5 kilometers, or 3.1 miles from the island's capital city, Puerto del Rosario.
This island is one of the famous Canaries of Spain, known for its spectacular beaches, holiday resorts, fascinating natural landmarks, and many other attractions; therefore, the airports of these islands are the main gateways for millions of local and international tourists. It is also well equipped, with all essential facilities for arriving and departing passengers. Fuerteventura handled just over 3.11 million passengers in 2021 and played a crucial role in tourism. (Passenger numbers peaked in 2018 with 6.12 million passengers).
The airport, with the official IATA code of FUE, and ICAO code of GCFV, is found on the eastern coastline of Fuerteventura, at the E Matorral site, southwest of Puerto del Rosario. It is also nearby to many other popular areas on the island, such as Corralejo (North) and La Lajita (South), a quaint fishing village.
Caleta de Fuste is one of the main tourist destinations of Fuerteventura and is just a ten-minute drive from the airport. To the north is also La Oliva, which used to be the island's capital city, with several attractions. Overall, there are approximately 150 lovely beaches, many of which are found in the Jandi area, Costa Calma, and Morro Jable.
All areas of the island can be reached from the airport in just an hour by car. The main road providing access to the site is the FV-2, and motorists can use the following coordinates on a satellite navigation system: 28°27′10″N 013°51′50″W.
Arrivals and Departures at Fuerteventura Airport
Fuerteventura's airport is served by several airlines and has two runways for their take-offs and landings. One runway is shorter, at 2,200 meters in length, while the other is larger, 3,406 meters long, and ideal for all more significant aircraft types. Both are asphalt runways. Air Europa, Vueling, and Ryanair are carriers with flights to the Spanish mainland, to airports such as Madrid-Barajas, Barcelona, Malaga, Valencia, and Bilbao, as well as to Palma de Mallorca, which is one of the Balearic Islands. The leading airline carriers of the other Canary Islands, such as Gran Canaria and Tenerife North, are Binter Canarias, Naysa, and Islas Airways. Jetairfly serves the airport of Tenerife South.
Other significant airline companies at Fuerteventura are Thomson Airways, Neos, Condor, Air Berlin, BMI, Easyjet, and Air Italy. Some of their destinations include Vienna, Liverpool, London Stansted, Milan-Malpensa, Munich, Cologne/Bonn, Hamburg, Frankfurt, Pisa, Catania, Manchester, and Glasgow-International.
Ryanair is one of Europe's most popular airline carriers and offers low-cost air travel to the many Canary Islands, including Fuerteventura. Currently (2019), flights are available from 9 UK Airports: Birmingham, East Midlands, Edinburgh, Glasgow Prestwick, Leeds-Bradford, Liverpool, London Luton, London Stansted, and Manchester.
The airport has had several locations in its history. It started as a military airfield in 1940 in the municipality of Tefía and was also opened for national and international civil flights in January 1959. The initial site of the airport was then considered too far from Puerto de Cabras, an important area of the island, and officials decided on a new location. The airport was then relocated to land at Los Estancos, nearby Puerto del Rosario, and all traffic ceased to Tefía in 1952.
However, this location again posed problems due to its gusting winds, and Fuerteventura Airport found its final home at El Matorral. The official opening was on 14 September 1969, and the first plane on the runway was an Iberia Focker 27. Passenger traffic at Fuerteventura grew, and a new terminal was constructed in 1994, allowing up to five million passengers per annum. The car park was also extended, and the access road was improved, along with several other adjustments.
The terminal building was expanded again to allow eight million passengers per annum. The renovation was allocated over €237 million and increased the facilities space from 36,000 to 93,000 square meters. A new arrivals area with six new baggage reclaims carousels were built in the expansion's first phase, while the second phase involved a new boarding area with 12 new gates. The third development phase included a new check-in area, with 31 check-in desks and various other improvements to the building.
Today, the airport consists of a very modern and well-organized single terminal building with three levels: the basement level, ground floor, and first floor. The arrival hall and baggage reclaim area are on the ground floor, with a tourist office, lost luggage office, car hire counters, a cash machine, and tour operator agents, as well as the departures lobby, with 65 check-in desks.
When arriving at Fuerteventura airport, you will find the most popular car hire companies nearby. It is generally suggested to book any rental cars in advance of arriving given high demand in peak season. See and compare all car rental companies at Fuerteventura Airport.
The first floor is dedicated to the departure lounge, with 44 gates and a variety of shops and restaurants. Facilities at the airport also include:
A children's play area.
Information points.
A pharmacy.
First aid services.
Ticket sales offices.
Automatic check-in machines.
Premises are fully accessible for disabled passengers and offer facilities for parents with small children.
Aena is the management company in control of the airport and can be contacted for further information at (+34)91 321 10 00 or 902 404 704.
FUE is the official IATA code for Fuerteventura Airport. It is possible to enter the following GPS coordinates 28.51667 and -13.90000 to aid you in your travel.
Binter Canarias, NAYSA, and Islas Airways are the three busiest Airlines that fly out of the airport; they cover around 7 out of the 53 in total. Binter Canarias is the most frequent, with approximately 93 flights a week out of a total of 433. Binter Canarias covers 21% of all outbound flights, Gran Canaria and Tenerife Norte being the most frequent destinations.
Parking Services at Fuerteventura Airport
See options for parking at Fuerteventura Airport.
Hotels near Fuerteventura Airport
There are a number of hotels to suit all budgets and requirements at or near Fuerteventura Airport.
Additional Services and Amenities at Fuerteventura Airport
At Fuerteventura Airport you will find the usual array of bars and restaurants, airport lounges and shops.
Things to do in Fuerteventura
There are a number of activities to suit all ages and interests in the region - see a selection of tourist activities in Fuerteventura.
Services at Fuerteventura Airport
Useful Information about Fuerteventura Airport