Fuerteventura Airport Arrivals (FUE)
Not all flights may be showing. If not available use search above to find your flight by airline, airport or flight number.
Origin
Airline
Flight no.
Scheduled
Est./Actual
Status
Santiago De Compostela (SCQ)
Ryanair
FR1188
07:30
Scheduled
Las Palmas (LPA)
Binter Canarias
NT200
07:40
Scheduled
Las Palmas (LPA)
CanaryFly
PM803 expand_more(1)
07:40
Scheduled
Las Palmas (LPA)
Air Europa
UX2119
07:40
Scheduled
Tenerife (TFN)
Binter Canarias
NT940
08:00
Scheduled
Las Palmas (LPA)
Binter Canarias
NT210
08:55
Scheduled
Barcelona (BCN)
Vueling
VY3014 expand_more(2)
09:15
Scheduled
Barcelona (BCN)
Iberia
IB5221
09:15
Scheduled
Barcelona (BCN)
Qatar Airways
QR3726
09:15
Scheduled
Las Palmas (LPA)
Binter Canarias
NT216
10:00
Scheduled
Las Palmas (LPA)
CanaryFly
PM805 expand_more(1)
10:00
Scheduled
Las Palmas (LPA)
Air Europa
UX2121
10:00
Scheduled
No flight arrivals were found at Fuerteventura Airport.

Flight Arrivals at Fuerteventura Airport
Fuerteventura Airport is the arrival point for millions of tourists every year, as it is located on one of Spain's famous Canary Islands, known as Fuerteventura. The Canary Islands, including Fuerteventura, are the perfect holiday destination, as they offer miles of golden beaches lining calm blue waters, an array of fascinating natural landmarks and countless amusement parks, zoos and aquariums, and nature reserves. Popular holiday resort areas nearby Fuerteventura Airport include Puerto del Rosario, Caleta de Fuste, Costa Calma and Morro Jable. The Fuerteventura Airport arrival area is well equipped with facilities for its passengers, and there are several transport options available from the airport.
Fuerteventura Airport is served by a large number of airline carriers, some of which offer charter and seasonal flights to the airport. Approximately 6 million passengers make use of this airport every year, and the majority of these passengers fly on domestic flights, to other Spanish destinations, and to the other Canary Islands of Tenerife and Gran Canaria. However, Fuerteventura Airport receives many international arrival flights from countries such as Germany and the United Kingdom, as 74% of all international passengers are from these two destinations. Ryanair, Thomas Cook Airlines and Thomson Airways offers flights from Birmingham, Manchester, the London airports of Stansted and Luton, Liverpool and Edinburgh, while Air Berlin flies from Berlin-Tegel, Cologne/Bonn, Frankfurt, Hamburg and Munich. Islas Airways and Binter Canarias are the main airline companies with flights from the other Canaries, and Spanair, Air Europa and Vueling fly from Madrid, Barcelona, Bilbao, Malaga and Palma de Mallorca.
The Fuerteventura Airport arrival area has recently been renovated, and the airport's building was expanded to increase its capacity to eight million passengers per annum. The arrivals hall is modern with a number of useful facilities, and is found on the ground floor the passenger terminal. There are thirteen baggage reclaim carousels available, one of which is for special luggage. Past the baggage reclaim area, arriving passengers will find a tourist office, from where all information regarding the towns and resorts of the island can be found, a lost luggage office, tour operator agents offices, a cash machine and the Fuerteventura Airport car rental companies.
By rented car is an extremely popular way for visitors to travel the island, as there are so many wonderful beaches and towns to explore. The bus services on the island are quite extensive, but nothing beats having your own vehicle. The internationally recognized car rental companies at Fuerteventura Airport include Avis, Sixt, Hertz, National, Europcar and Auto Europa, while there are also a few local companies available, including Marbesol, Goldcar and Record Rent A Car. The rented cars of the car hire companies are found in the airport's parking lot.
Other forms of transport from Fuerteventura Airport include by bus or taxi, as there are no railway services on the island at this present time. The buses are operated by the Tiadhe Bus Company, and run to all the nearby resorts and towns surrounding the airport. The bus stops are found just outside the arrival area, and buses are available every half an hour or two hours, depending on the route you take. The taxi ranks are also found outside the arrivals area of Fuerteventura Airport, and are available for travel to all areas of the island. Taxis can be pre-booked, but this is seldom necessary, as there are always taxis waiting at the airport. Alternatively, several private companies offer transfers to the holiday resorts of Fuerteventura from the airport, and hotels may offer a complimentary shuttle bus service to their place of accommodation. A number of hotels can be found nearby the resort of Caleta de Fuste, just ten minutes from the airport, and in Puerto del Rosario, the island's capital city.
Fuerteventura Airport is located on the eastern coastline of the island, and motorists travelling from the airport can access areas to the south from the FV-2 motorway. These areas include Caleta de Fuste, Las Salinas, Gran Tarajal, Tarajalejo, La Lajita, Costa Calma and Morro Jable. Some of the best beaches of Fuerteventura can be found in these areas. The FV-2 motorway also travels slightly north from the airport, to Puerto del Rosario. From the capital city, the FV-1 continues up the eastern coastline of the island, and leads to Corralejo, an important and charming port city, with many ferry connections to nearby Lanzarote Island, located just to the north of Fuerteventura. Slightly inland is La Oliva, which used to be the island's capital city.
The arrivals area of Fuerteventura Airport is fully accessible for disabled passengers, and passengers with reduced mobility, as there are adequate toilet facilities, hand railings, pavement ramps and elevators. Passengers can also request further assistance from their airline company, and will then be greeted upon arrival by staff members of the airport. Fuerteventura Airport arrival schedules can be found online, and information desks at the airport provide assistance with transport and other general enquiries.
Was your flight delayed or cancelled?
You may be eligible to receive up to 600 EUR compensation per person in your party..
Claim Now!
Beat the Queues
Don't stand sweating for 45 mins waiting for Security. Get a fast track and get through in 5 mins or less.
Book now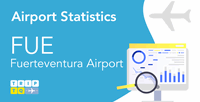 Fuerteventura Airport Overcomes the Pandemic with a Passenger Volume Increase, Yet Experiencing a 1.94% Decrease from the Previous Year