Fuerteventura Airport Departures (FUE)
Not all flights may be showing. If not available use search above to find your flight by airline, airport or flight number.
Destination
Airline
Flight no.
Scheduled
Est./Actual
Status
Gran Canaria (LPA)
Binter Canarias
NT203
07:00
Scheduled
Madrid (MAD)
Iberia Express
IB3903 expand_more(4)
07:00
Scheduled
Madrid (MAD)
American Airlines
AA8530
07:00
Scheduled
Madrid (MAD)
Cathay Pacific
CX1855
07:00
Scheduled
Madrid (MAD)
Qatar Airways
QR6568
07:00
Scheduled
Madrid (MAD)
Vueling
VY5028
07:00
Scheduled
Santiago (SCQ)
Ryanair
FR1189
08:05
Scheduled
Gran Canaria (LPA)
Binter Canarias
NT201
08:10
Scheduled
Gran Canaria (LPA)
CanaryFly
PM804 expand_more(1)
08:10
Scheduled
Gran Canaria (LPA)
Air Europa
UX2120
08:10
Scheduled
Tenerife (TFN)
Binter Canarias
NT941
08:30
Scheduled
No flight departures were found at Fuerteventura Airport.

Flight Departures at Fuerteventura Airport
Fuerteventura Airport is an important gateway to Fuerteventura Island, one of Spain's Canary Islands which are visited by millions of local and international tourists every year. The airport handled just over 6 million passengers in 2010, and is served by a variety of airline companies. The Fuerteventura Airport departure facilities are excellent, and passengers will find all the services they require from within the modern and well organised terminal building. Passengers will also be able to get to the airport in plenty of time for their departure flights by a number of transport options.
Fuerteventura Airport is located on the El Matorral site, just five kilometers from the capital city of the island, known as Puerto del Rosario. This city also features a bustling port, and is a tourist center for the island. Other areas nearby the airport include one of the most popular tourist resorts of Fuerteventura, Caleta de Fuste, as well as Las Salinas. Further south is the quaint fishing village of La Lajita, and Morro Jable, where some of the island's best beaches are found. Far north of the airport is La Oliva and Corralejo. Departing passengers coming from these areas can easily reach the airport by road, in their own vehicles, as the island has an excellent road network, and the major motorways of the FV-2 and FV-1 connect most of the important towns along the eastern coast. Fuerteventura Airport lies on the eastern coast, and is directly linked to the FV-2, which leads south, and bit north to Puerto del Rosario, whereas the FV-1 runs north from Puerto del Rosario.
Buses and taxis also provide transport to the airport, as well as a number of privately owned bus and transfer companies. The buses are operated by the Tiadhe Bus Company, and are available from the main bus station in Puerto del Rosario, or from nearby areas, such as Las Salinas, Caleta de Fuste and Morro Jable. The bus routes of 3 and 10 directly serve the airport. Taxis are a more expensive way to travel, but are available from all destinations on the island. At present, there are no railway services on Fuerteventura.
The main airline companies offering departure flights from Fuerteventura Airport include Ryanair, Binter Canaria, Naysa, Jetairfly, Islas Airways, Air Europa, Thomas Cook Airlines and Thomson Airways. The majority of flights from the airport are domestic, to the other Canary Islands of Tenerife and Gran Canaria, as well as to the Spanish mainland, to destinations such as Malaga, Madrid-Barajas, Barcelona, Bilbao and Palma de Mallorca, one of the Balearic Islands of Spain. Neos and Meridiana Fly offer a number of flights to Italian destinations, such as Milan-Malpensa, Pisa, Bologna, Catania and Verona, while many passengers fly to Germany and the United Kingdom as well. These two destinations account for 74% of Fuerteventura Airport's international traffic. Air Berlin serves Frankfurt, Munich and Hamburg, while Ryanair and Thomas Cook Airlines fly to Birmingham, Manchester, Liverpool, London-Stansted, London-Luton and Edinburgh.
The terminal building of Fuerteventura Airport was recently expanded and renovated to improve the passenger facilities, and to increase the capacity of the airport. The terminal is now capable of handling up to eight million passengers per annum. New check-in desks and departure lounges were included in the upgrade. The airport consists of a single terminal building, with three levels – a basement area, the ground floor and the first floor. Passengers will check-in for their departure flight on the ground floor of the terminal, from one of 64 check-in desks. There are also a few automatic check-in machines available for self-service from certain airline companies. In this area, passengers will find facilities such as ticket sales offices, tour operator offices, cash machines from various banking institutes, a pharmacy and first aid center and a self-service cafeteria. There is also a large shopping area at Fuerteventura Airport, with retail outlets selling a range of products. Items for purchase include costume jewelry, gifts and souvenirs, clothing and accessories, sweets and newspapers, books and magazines.
Several bars and restaurants are available for departing passengers as well, and they include the Green Bar and Grill and Café di Fiore on the ground floor, and Haagen Dazs and Pans & Co on the first floor. The first floor is the main area for departing passengers, with the departure lounges and boarding gates. Further facilities for passengers include a children's play area, baby changing rooms, photocopying services and a lost property office.
Fuerteventura Airport is fully accessibly for disabled passengers, and achieved the International Accessibility Symbol for the terminal and all facilities at the airport in December, 2000. This means that all areas of the airport can be accessed by persons in wheelchairs, and properly adapted toilet facilities are available. There are also emergency intercoms in toilet areas and the elevators, as well as dedicated parking spaces for passengers with a disability badge. Further assistance at Fuerteventura Airport can be requested from the airline company concerned.
Information regarding Fuerteventura Airport departures is available from the Aena service desks within the terminal, or passengers can contact the airport at (+34) 91 321 10 00, or 902 404 704.
Was your flight delayed or cancelled?
You may be eligible to receive up to 600 EUR compensation per person in your party..
Claim Now!
Beat the Queues
Don't stand sweating for 45 mins waiting for Security. Get a fast track and get through in 5 mins or less.
Book now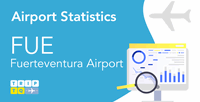 Fuerteventura Airport Overcomes the Pandemic with a Passenger Volume Increase, Yet Experiencing a 1.94% Decrease from the Previous Year